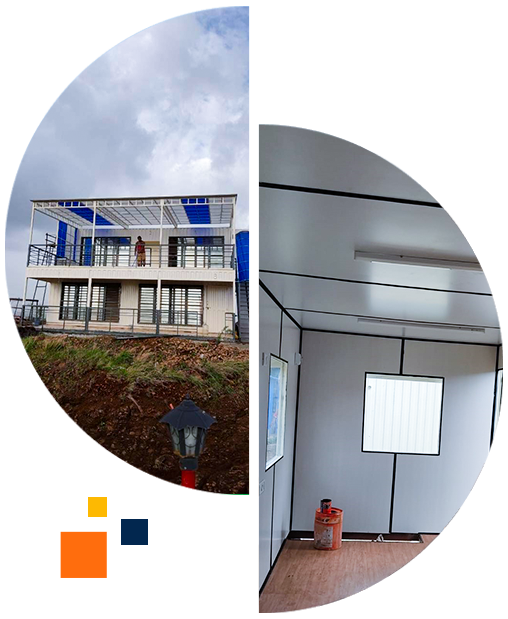 We "AK Portable Cabins Industry" are one of the leading manufacturers of a wide range of Portable Cabins. We are ISO certified company. These find application in meeting the on-site demands of construction sites, Sales Office, security purposes, factories, toll booths and other similar areas where permanent construction is not feasible. Our business operations are run by our experts. who has rich experience in our industry sector. The visionary process guidance as well as strong advertising skills provides them to deliver compatible solutions as demanded by the customers. Further, in-depth process knowledge regarding involved field areas also allow us to deliver the solutions in highly customized specifications Today, our consistent business approach as well as capability to deliver portable Cabin in client's specific finish specifications has helped us to emerge as a leading company in our industry area. Further, our capability to serve promptly against received orders as well as deliver solutions at competitive prices has also helped us in strengthening our position in this market sector.
We have been able to create and produce the greatest goods thanks to the cooperation of our manufacturing workers in Hyderabad, Telangana. Our staff members perfectly execute the complete manufacturing operations of the provided range in accordance with the industry's established specifications and current market trends.
Our Manpower:
AK Portable Cabins Industry has gained proficiency in this industry thanks to the persistent support of our team. Our staff group of professionals are experts in their fields. Moreover, we are supported by skilled managers and leaders who help us carry out corporate activities in the most efficient way possible.
Our Infrastructure:
In order to complete the full manufacturing efficiently, we have built cutting-edge equipment. We have intentionally divided our setup into three units: manufacturing, quality assurance, and logistic. The setup's production system is outfitted with advanced technological equipment and facilities that allow us to preserve a rapid rate of manufacturing, allowing us to meet output targets in a short period of time.
Managing and Directed By-
Mohammed Shamshad , Mohd Jahangir